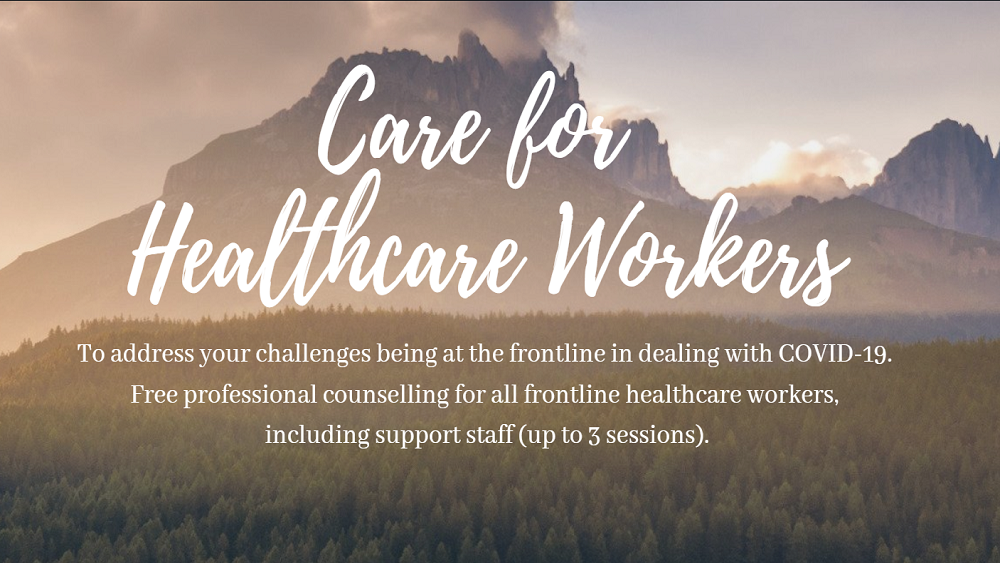 Dear healthcare workers,
We stand alongside you in fighting COVID-19.
The pandemic has been enduring. If you are a doctor, a nurse, an allied heathcare worker, a clinic administrative staff, or a cleaner in the hospital, your work and contributions have been vital and deeply appreciated. As frontline fighters of COVID-19, you may be feeling burdened, stressed or anxious during this period. To show our gratitude and to do our part in this difficult time, we want to support you in the way we know best.
For all workers in healthcare facilities (hospital, polyclinic and clinics), we provide you with up to 3 counselling sessions at no charge. This is for you to work on concerns arising from COVID-19 while the DORSCON level is at Orange. The counselling sessions are by appointment and will be conducted via online platforms such as Microsoft Teams and Zoom.
Come talk to us and spread this service information to your fellow colleagues in healthcare facilities. Let us be a support for you and you colleagues, for together, we are resilient.
Click here to make an appointment or call us at 6788 8220. 
Regards,
Dr Jeannie Chiu
General Manager, EMCC